Our propane vending machines are available in standalone and modular units. Our products have two issued patents #10,008,068 B2 issued 26 June 2018 and #10,699,510 B2 issued 30 June 2020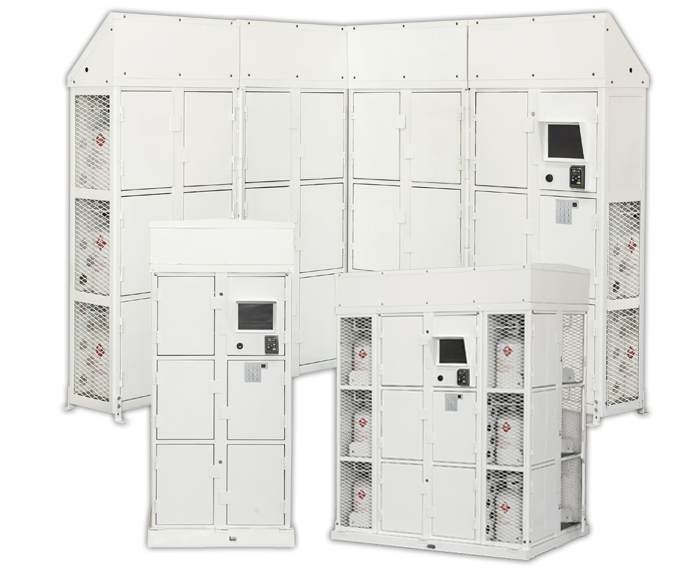 Automated Propane Exchange
Our operational readiness rate for deployed machines is over 99%. The only moving parts are the electro mechanical locks which are guaranteed for one million cycles. On the rare occurrence that there is a fault, the operating system runs self- diagnostics prior to vending and will not vend a compartment with an error code (stuck door, locking sensor inop, no Cylinder detected, proximity sensor inop) and vends from the next operational compartment so the customer is always satisfied. The propane vending machine produces real time sales data so you never run out of cylinders and emails you when there are faults or when it is low on cylinders. The 5.6" touchscreen user interface is designed for outdoor use. An additional button mounted inside the customer interface compartment allows for cash sales by store employee if desired.
Class I Division 2 Certified
Outdoor Vending Machine Certified
3G or 4G Encrypted Cellular Uplink
Grow Your Propane Business with Propane Vending Machines
Increase your propane business and lower costs with our propane vending machines.
Expandable
Our propane vending machines are expandable and can be configured in a variety of layouts.
Advertise
The possibilities are endless. Use your propane vending machine as advertising space.
Outdoor Use
Our propane vending machines are Class I Division II Certified and UL 751 listed.
Cashless Purchase
Quick and easy credit card processing is built in to every machine. No store staff required for purchase.
Complete the information below and one of our team members will connect with you.
See How Propane Vending Works
Request a Sales Consultation Today!